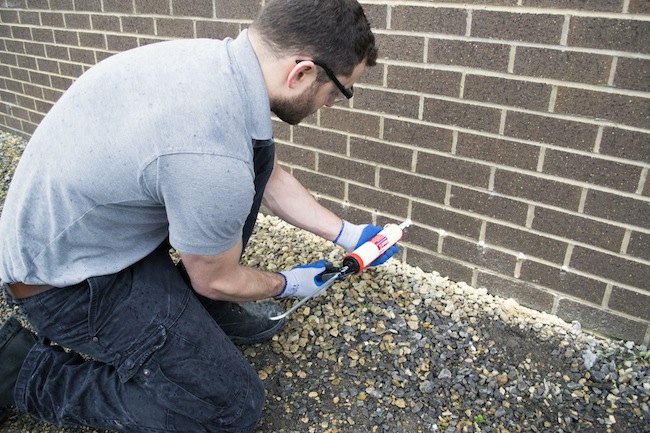 When water starts to accumulate in the underground or basement region, moisture tends to build up in the walls through the wall capillaries. No matter the wall is made of stone material, brick or simply block, rising damp can occur on any wall. Water spreads through the wall fabric and moves upward as a result of the capillary action. If you see closely, you will find holes in the block and stones. In the beginning, water rises up the walls rapidly, and then it stops moving as a result of gravitational force. Rising damp is a growing concern for homeowners and they usually look for rising damp repair solutions to eradicate this issue from their property. Membrane system damp repair treatment is the best way to get away with rising damp. It is easier and more convenient to install membrane system, for it also needs minimal preparation.
You may now wonder to what height the damp may rise. Indeed, it may rise up to 1-2 meter height but salt in water can move even further. This happens due to non-breathing walls resulting from vinyl wallpapers or plastic coating over the walls.
Watch Out For the Signs of Rising Damp
Before you begin with rising damp repair, you must watch out for the signs of damp and how it has occurred. More often, you will notice a brown line moving up the walls or yellowish tide line traveling up the walls. You may notice them above the skirting board, or the flooring and skirting board may even rot due to these brown damp lines. If you don't take them seriously, very soon you will notice the occurrence of black spots, suggesting mold growth.
The Reasons for Rising Damp
If walls are not damp proof and there is a direct contact of walls with some water source, there will be rising damp all over. Also, it might be the case that the damp proof wall has become faulty due to improper installation or due to aging. With the passage of time, the waterproof layer may become ineffective. When the waterproof layer is effective, it tends to repel moisture and water, and vice versa.
What To Do When There Is Rising Damp?
You have to look for rising damp repair service and contact the professionals. But, it is a deep concern if there is rising damp even when the waterproof membrane is functioning properly. In such cases, you need an expert to find out the root cause of the problem. The reason may be that the damp proof course is breached or something near the walls is exuding water. Apart from this, it may happen that next to the damp proof wall there is an external wall higher than the damp proof course. Nevertheless, it is better to summon a certified professional for wall inspection. The professional can tell you the exact reason behind the rising damp.
Rising damp problem may also result from your neighbor's property. If their damp proof course (DPC) is much higher than your DPC, then dampness from their walls can travel to yours.
How to Tackle Rising Damp Problem?
It is highly recommended that you don't handle rising damp issue on your own. It is necessary to identify the cause and main source of water and then proceed further to carry out the rising damp repair. A professional uses necessary tools to diagnose the root cause of problem and then proceeds with the repair work. If you don't have any idea about how to carry out rising damp repair, you may end up causing greater harm to your property.
Using water repellant chemical can also help. The chemical is available in cream or gel form which may treat the walls and make them damp proof. Salt mixture can be injected to the walls to control water percolation for it is pore blocking. However, the easiest way to get over with the situation is by contacting an experienced, bonded and certified professional.